The reasons why PURU use organic beeswax in our products
PURU believes that when nature has given us an abundance of options widely available at our European doorstep, making truly nourishing skin and body care products is a labour of love that although doesn't always come easy, ironically requires little changes to the formulations.
We are lucky to be surrounded by 100% natural and organic ingredients, rendering very few excuses to use poorer quality imitations and substitutes.
| So why do we use organic beeswax (Cera Alba) instead of a synthetic thickener?
It is common knowledge that by definition, veganism is defined as no animal by-products. The principles of vegetarianism are widely understood, but the principles of veganism can often cause confusion, particularly in the skin and beauty categories. At the top of this sits beeswax, which often prompts the question – is it vegetarian or even vegan?
Veganism typically classifies honey and beeswax to be non-vegan because vegans are of the belief that bee's health is sacrificed when the honey and wax are harvested – hence not adhering to this above textbook definition.
| Interestingly, many cruelty-free certificates permit the use of beeswax, as it is not tested on animals and it can be harvested in different ways.
PURU makes every effort to source beeswax that does not compromise the bee's habitat and upset the balance held in its nature. We ensure that the beeswax we use is thoughtfully sourced and is obtained in a sustainable manner that doesn't interrupt the bee population. In tandem, our chosen beekeepers ensure that the bee colonies are cared for and their health is maintained for future productivity. From PURU's viewpoint, beeswax is likened to bee sweat, an excretion used for survival and used by these truly remarkable creatures to build their own home. Bees are certainly the busiest of us all with a remarkable working schedule; their survival is imperative to ours, and we would in no way choose to compromise it.
It is PURU's belief that every ingredient of the products you use supports your skin's natural functions and our products are functional first. Not only do we seek nourishment from the ingredients we choose, but to also achieve skin synchrony. Beeswax is one of those miracle ingredients, that be used from head to toe. It soothes, nourishes, protects, calms and contains an abundance of Vitamin A.
| That is why we have consciously chosen to work with certified organic beeswax for our sunscreens, balms, and deodorants.
When used in natural skincare products, beeswax performs as an incredible occlusive, by creating a barrier on the skin epidermis and preventing any trans epidermal water loss. This barrier also helps to protect the skin from environmental toxins and shields away from irritants.
Beeswax is also very useful as a thickening agent, and is a chameleon in skincare from lotions to moisturisers, balms and lipsticks. Packed with antibacterial and anti-inflammatory properties, unrefined and organic beeswax is also a known humectant, meaning it attracts water to seal moisture into the skin, a saviour during the colder months.
As to why we choose to not work with vegetable and natural emulsifying waxes, which are of course readily available, it is because many vegetable emulsifying waxes are composed of Cetearyl Alcohol and Cetearyl Glucoside. Cetearyl Alcohol is a known environmental toxin and although is not considered harmful for topical use, it is not an ingredient that's used for its actual effects on the skin but rather, for the product's composition and consistency – holding it all together. PURU believes beeswax works best as nature intended it to; a natural emulsifier. Being unprocessed means it works synergistically with most ingredients be they synthetic or natural.
PURU's ethos is rooted in the belief that an ingredient won't make it to the final cutting board if it doesn't fit in our ethical framework. We choose the purest possible ingredients that are of benefit to our skin and make a visible difference in how our skin responds. Above all, the product is designed to nourish from the outside in.
The final word on this is to do your research. Take a deep dive into the brands and find out as much as you can about their beekeeping and beeswax-harvesting processes to best determine if the product fits your ethical compass. PURU's process? The beeswax is gently melted into a creamy consistency for blending into our products. This is information that will always be readily available and transparent to our customers.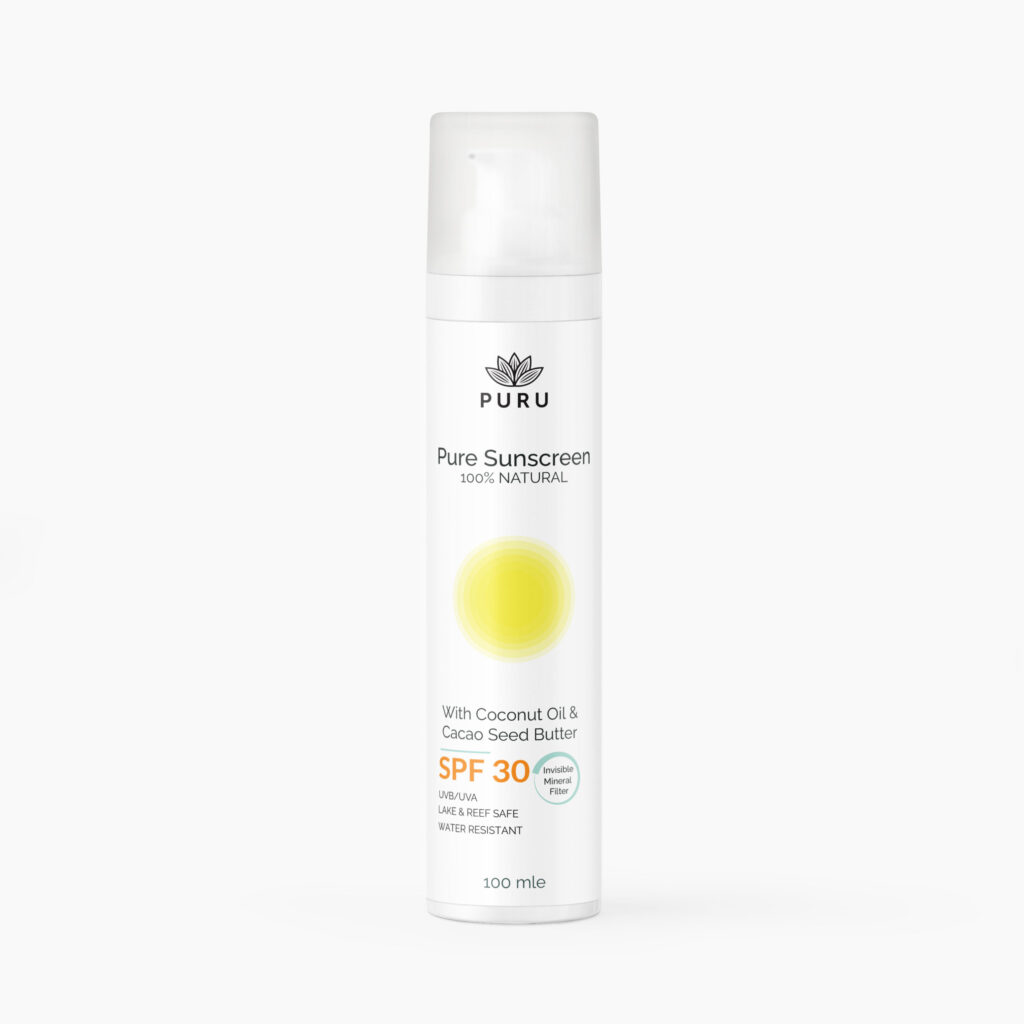 Pure Sunscreen SPF 30 – Zero White Cast
100% Natural Sunscreen with organic ingredients. Perfect for everyday protection and those with darker skin tones.
Pure Sunscreen SPF 50 – Zero White Cast
100% Natural Mineral-based Sunscreen with High Protection and Organic Ingredients. Eco-friendly and respectful of the environment.
PURU HAS PARTNERED WITH SWITZERLAND FOR THE OCEANS TO HELP RAISE AND CONTRIBUTE FUNDS TO THE BETTERMENT OF THE OCEANS WORLDWIDE.
PURU is on a mission to improve the cosmetics industry through sourcing of more natural ingredients and sustainable packaging that also contributes towards measurable improvements to the water ways and oceans.
Switzerland for the Oceans is active in measurably improving the world's oceans and brings together diverse groups to find solutions to complex water issues.
PURU is title sponsor for the prestigious eco-conscious sailing race PURU Transgascogne which aims to raise further awareness towards clean water issues around the world.
SIGN UP TO OUR NEWSLETTER FOR -10% OFF YOUR FIRST ORDER
Sign up for -10% off your first order and for news, health tips, discounts, regular giveaways and more…